For those of you who grew up in the 80's, I don't have to explain tennis shoe roller skates, nor the sheer awesomeness of their roller power. One glorious Christmas morning, my eyes locked on a shiny new pair, complete with white racer stripes and bright yellow wheels. What more could a feathered bang girl, hair-sprayed perfectly into place, ask for? These opened up a whole new world in my grandparent's basement.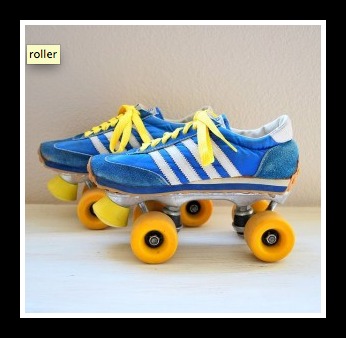 There were many Saturday nights spent rolling around with my brother, sister, and twin cousins. Luckily for us, much of this part of the house was still unfinished cement, so it allowed for rink-like conditions.
When we got hungry, we'd make our way upstairs and have dinner. After mashed potatoes and ham, we'd line up our sleeping bags in front of the TV.
We'd take in the talented skills of Julie McCoy, cruise director of The Love Boat, and the fascinating, mysterious happenings of Fantasy Island, "da plane, da plane!" I fully realize that the quality of
our television programming could have been better, and that it may have even been a bit inappropriate, but I honestly don't remember the content at all. What I do remember is that those Saturday nights meant something.
We weren't doing anything particularly special, but that small tradition gave me security, family roots, and a sense of belonging in the world. Who knew tennis shoe roller skates and The Love Boat could do all that?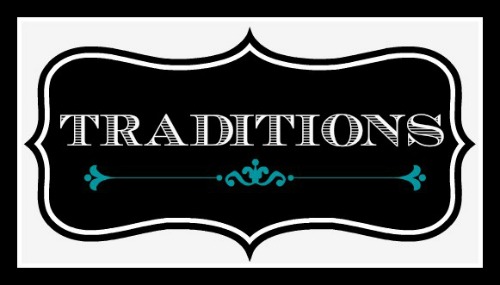 They help spin a web of inter-connectedness in families and offer a valuable sense of identity.
They become a part of how that particular group is defined. For example, one of our weekly traditions is Thursday night family night. Sometimes it is a fabulous night full of leaning, conversation, fun games, and good food. Other times it totally flops and it seems that we can hardly get the conversation going. Either way, we do it week after week. My kids will probably not remember the lessons as much as the fact that it is a part of being a Gilbert It is what we do, and it communicates what we value. We often think traditions need to be big, organized occasions. Those have a place for sure, but really, sometimes it is the small ones that we do consistency that mean the most. And because they are smaller and more do-able, we often are more likely to stick to them.
Here are some mini traditions we have done, some that I plan on doing this year, and some that friends have incorporated into their families:
*BLT sandwiches after church on Sundays
*Sunday Sundaes
*Friday night pizza and pop night
*Saturday night at the movies and popcorn (at home)
*Campfire & S'more night
*Saturday morning breakfast in bed (0r on birthdays)
*Hour of Power (saturday morning clean up after cartoons)
*Saturday Morning Pancakes
*Sunday morning hog & jog (a morning run followed by breakfast out)
*Full Moon Madness (stay up late and have special drinks on a full moon)
*Talent show tuesday (kids perform skits, talents, show -n- tells, etc.)
*Fireside Chat (read a classic novel to the family by the fire, or pick a topic of conversation or current event and discuss)
*Sunday Evening Sabbath (light a candle, pass around bread and salt – Jesus is the bread of life, we are the salt of the earth, do a small object lesson, sing)
*Wing Stop Wednesday or Tuesday Tacos: One on one dates bi-weekly or weekly
*Fun Friday after school activity
*Tea time (or coffee)
*Donuts with Dad
*Monday Muffins
*Hot chocolate & chocolate date after skiing (or sledding)
*Hike & hamburgers (after exploring, go eat at a local hamburger favorite)
*Friday night fights (ultimate frisbee, football, soccer, golf, capture the flag, or baseball games)
*Pop & Poker Night
*Flip flop lemon drop picnics (homemade lemonade, blankets on the front lawn, flip flops, lemon drop candy)
*Dance party (pick a couple of new tunes, then dance after clean up)
What is YOUR mini-tradition?
Go to my Facebook page today and share your fun idea with all of us!